Cameron left his daughter at a pub? Britain shrugs, commiserates.
Although some derided Prime Minister David Cameron for forgetting his daughter in a pub, his predicament struck a chord with most Britons – many of whom said they had done the same thing.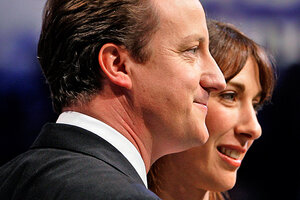 Kirsty Wigglesworth/AP/File
British newspapers were gleeful as they reported yesterday and today that Prime Minister David Cameron and his wife accidentally left their eight-year-old daughter in a local pub after a recent Sunday lunch.
Mr. Cameron and his wife Samantha, who had enjoyed a traditional lunch at their local Buckinghamshire pub with their three children and some friends, only realized their daughter Nancy was missing when they returned to their official weekend residence, Chequers, a 15-minute drive away, The Sun newspaper reported yesterday.
Mr. and Mrs. Cameron traveled in separate cars and both thought Nancy was with the other. One of his spokesmen said the Camerons were "distraught" after realizing they had left Nancy behind and the prime minister had rushed back to the pub to fetch her.
The story has been a media sensation for several reasons. Such a personal blunder on the part of a politician makes irresistible copy for newspapers, especially at a time when the headlines are dominated by grimmer news, from economic woes to the stormy summer rains. But British newspapers have a particular love, at any time, of exposing the intimate lives of the famous, especially those in political power.
And that, of course, is because such stories are popular with their readers, judging from the long lists of comments left on news websites. In this case, the story seems to have struck a chord with the innumerable British parents who have on occasion left behind their own children.
This morning the popular BBC 4 Today program invited parents to call in with their own tales and was deluged with calls and emails, including one from the doctor who left her newborn baby under a restaurant table after dinner for several minutes.
---