Dueling diagnoses roil trial of Norway killer Breivik
Much hangs on whether Anders Breivik, who confessed to killing 77 people last summer, is ruled to be sane or insane. Psychiatrists who found him insane defended their view in Norway court today.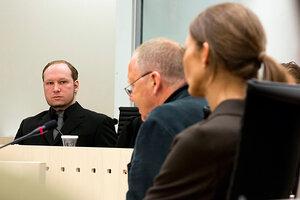 Heiko Junge/NTB Scanpix/Reuters
The Norwegian psychiatrists behind the much-debated report deeming Anders Behring Breivik insane defended their diagnosis in court today, despite mounting evidence that the self-confessed killer was possibly sane and hence criminally punishable for claiming 77 lives last July.
Torgeir Huseby, one of the two psychiatrists behind the forensic report released in November that found Breivik to be paranoid schizophrenic, testified in court that they intentionally did not delve into Breivik's political beliefs during their psychiatric evaluation.
The self-described militant nationalist claims the policies of the Norwegian Labor party forced him to bomb government buildings in Oslo and go on a shooting spree at a Labor party youth camp. He says the party's lax immigration policies and promotion of multiculturalism have allowed Muslim "colonization" of Europe and threaten Norwegian society.
"We are psychiatrists, not historians," said Mr. Huseby. "The main rule regarding a delusion is not the setting … but the role [in which] one sees oneself in that picture. When we have a new Jesus, we don't call in religious experts..."
"It has been the egocentric bias in [Breivik's political] compendium which has been of interest, both his own appointed role July 22 [in the 2011 attacks] and his future importance for Europe and the world," he added.
Huseby and report co-author Synne Sørheim have come under increasing fire after a second forensic psychiatric report in April concluded Breivik was not psychotic when he placed a car bomb outside government buildings and later shot teenagers at the summer political camp on Utøya island. In particular, they have been criticized for writing off Breivik's extreme political ideology as paranoid rants.
---