What Europe can learn from Aung San Suu Kyi's visit
During the next 16 days, Burmese Nobel laureate Aung San Suu Kyi is visiting Norway, Ireland, Britain, and France, where some say she is an example of turning weakness into strength.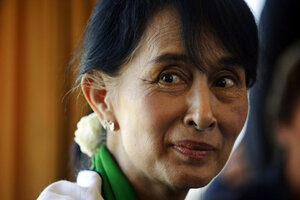 Sebastien Bozon/AP
"The time of politics," Aung San Suu Kyi said last year, "is a long time."
Now the Burmese reformer is in Europe for the first time in 24 years, 15 of those years she spent under house arrest in Myanmar (Burma). And she is getting a red-carpet reception and plaudits fit for a moral statesperson on the scale of Nelson Mandela, who also waited decades to leave jail in apartheid South Africa.
Ms. Aung San Suu Kyi spoke this morning in Geneva, amid ebullient applause, to the International Labor Organization, which yesterday lifted its restrictions on Myanmar's participation in the orgranization. She appealed for aid to help democratic reform in her country, which has seen political opening in the past year.
During the next 16 days, the Nobel laureate will visit Norway, Ireland, Britain, and France. But she arrives at a somewhat distressed time for Europe, which hasn't seen a lot of good news of late. It is a time of austerity, of diminished dreams and ideals, of a return to national interests – and where Greek elections Sunday could further propel a fraying of Europe's post-war idea of openness and togetherness. Regardless, Aung San Suu Kyi has said since her arrival that she has a great deal to learn from a Europe that she has not visited since before the fall of the Berlin Wall.
---