As Greece votes, Europe holds its breath
Greeks vote Sunday in an election that many say could determine whether it stays in the eurozone. The prospect of a departure has much of Europe on edge.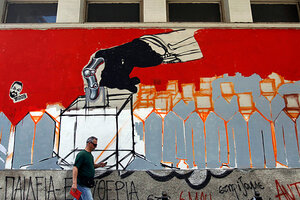 John Kolesidis/Reuters
Europe is bracing for Greek elections Sunday that may propel that nation out of Europe's common currency zone – a prospect unthinkable a few years ago.
In Athens Sunday, the chief question is whether Greeks will vote into office a government or coalition able to negotiate with EU authorities on terms of EU and IMF bailouts doled out since May 2010. A Greek government unwilling to meet terms would quickly set up a departure from the euro and a return to the Greek drachma.
Runs on Greek banks this week reportedly have depositors pulling out between as much as $750 million to $1 billion a day.
Nor is it very clear at this point whether even an avowedly pro-Europe government could ultimately keep the country in the eurozone.
A Greek departure from the eurozone is widely seen as reshaping the map of Europe, and the prospect has deepened fears of the unknown at a time of political and economic crisis after several years of austerity.
If Greek elections do not quickly bring a negotiation with the EU, "we enter a zone of great danger for the euro area, because no one knows the consequences," says Thomas Klau of the European Council of Foreign Relations in Paris. "All eyes are on Greece right now."
Greeks: we want to stay in eurozone
Nearly 80 percent of the Greek population say in polls they want to stay in the eurozone, but they do not want a crippling austerity-based financing of their debt that would sentence them to penury for the foreseeable future.
Yet their options appear to finally be running out.
---