Socialist election sweep gives Hollande clear mandate to push eurozone growth
The Socialist party and its allies garnered more than enough seats for an absolute majority in parliament, allowing French President François Hollande to pursue his policies full-throttle.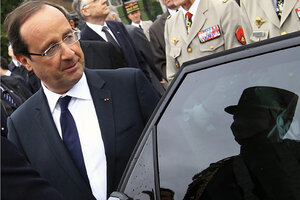 Bob Edme/REUTERS
The French Socialists and President François Hollande won a resounding victory in the final round of parliamentary elections last night, giving Mr. Hollande a clear field to champion growth policies during a euro crisis that has emphasized German-led austerity.
The Socialists and affiliates won some 300 to 307 seats in the National Assembly, far exceeding the 289 required for an outright majority, and giving the Socialists, a party declared moribund four years ago, its best position in France since the 1980s.
"Full Power for Mr. Hollande," the banner head in Le Monde shouted out today.
Socialist senior ministers said today they would immediately roll up their sleeves to implement a delicate mixture of cuts and tax reforms to achieve both a balanced budget and more support for jobs and schools.
Hollande, elected May 6, has already tweaked France's new age-62 retirement policy to allow those starting work at 18 to retire at 60, for example. But the new government has largely waited on the result of two rounds of lower house elections this month to swing into action.
The election outcome leaves the Socialists with the presidency, the senate and the lower house, as well as 21 of 22 regions and many of the largest cities. In addition, Socialist allies, including the Green party, surged to some 20 seats, making them proportionally the biggest winner of yesterday's poll.
"It was important to offer Hollande a large majority to make concrete the results of the presidential elections," Socialist lawmaker Jérôme Guedj said last night as the results became clear.
The French right, represented mainly by former President Nicolas Sarkozy's United Movement for a Popular Front, tallied between 215 and 221 seats.
---