Why Assange's bid for Ecuador asylum may dismay supporters
WikiLeaks founder Julian Assange took refuge in the Ecuadorian embassy in London Tuesday. Ecuador says it expects today to decided if it will grant his asylum request.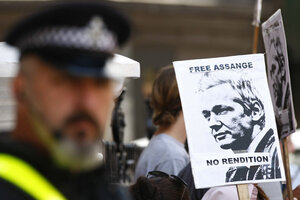 Tim Hales/AP
As many questions as answers surrounded Julian Assange's continued sojourn at the Ecuadorian embassy in London Thursday morning, as the Australian founder of WikiLeaks awaited Ecuador's response to his plea for asylum.
Mr. Assange's decision Tuesday to seek refuge at the small embassy across the road from Harrods department store in Knightsbridge, central London, has caused widespread bewilderment, especially among his supporters, several of whom stumped up cash for his £240,000 ($375,000) bail – money they may now lose.
Assange, whose WikiLeaks website caused a furor when it published secret US diplomatic cables in conjunction with some of the world's most respected newspapers in 2010, is trying to avoid extradition to Sweden, where authorities want to question him over alleged sex crimes. He claims that Sweden could extradite him to the United States, where, he says, he could face criminal charges punishable by death.
The logic behind this is perplexing, say legal experts, because Britain has its own extradition agreements with the US which it has not used against Assange. Indeed, civil liberties groups are often critical of Britain's use of the agreements.
Could still be arrested
---