After 15 years, Aung Sun Suu Kyi and Nazi resistance figure Hessel finally meet
French intellectual Stéphane Hessel, a former Nazi resistance figure, will meet Aung Sun Suu Kyi tomorrow as she concludes a tour of Europe. He talks to the Monitor about what this means to him.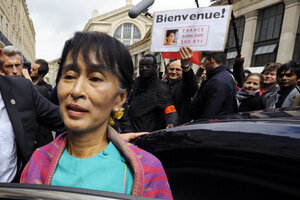 Philippe Wojazer/Reuters
Tomorrow, Burmese leader Aung San Suu Kyi, on the final leg of her 17-day Europe visit, is meeting both President François Hollande and French Nazi resistance figure Stéphane Hessel at the Élysée Palace.
Mr. Hessel, who helped author the United Nations Declaration of Human Rights and counted Eleanor Roosevelt among his friends, has tried to meet Ms. Aung San Suu Kyi before, without success. His life is storied: He escaped Nazi prison camps three times, was the son of the couple "Jules and Jim" in the famous French film, and last year came out of retirement to write a bestseller that has made him a sort of celebrity intellectual at age 94.
His 30-page tract "Get Indignant," which urges younger generations not to give up hope, is widely seen as helping spark the European version of the "Occupy" movement in Spain last spring. That protest then partly morphed into the "99 percent" movement in the US.
In the 1990s Hessel traveled to Rangoon (the capital of Myanmar) on a semi-official mission of support for Aung San Suu Kyi, but was blocked from meeting her by Burmese authorities.
As Suu Kyi arrives in France, the Monitor caught up with Hessel for a brief chat.
Monitor: What does Aung San Suu Kyi represent for you?
---