How much did German Chancellor Merkel give up at euro summit?
The once-unmovable Chancellor Merkel agreed to a bailout fund for struggling eurozone members, saying she did not bow to pressure. Headlines in Germany portray it differently.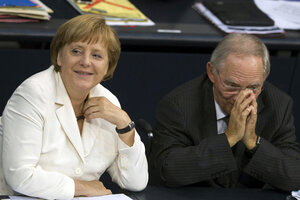 Thomas Peter/Reuters
Joachim Löw, the coach of the German soccer team and, Angela Merkel, head of the German government, both suffered defeat Thursday night – but only one of them conceded the setback.
"The better team won," Mr. Löw said after his side was kicked out of the European Championship semi-finals by Italy. Chancellor Merkel, however, rejected all suggestions that she had bowed to pressure from her fellow leaders at the latest European summit in Brussels on Thursday and Friday.
But the headlines back in Germany said otherwise.
"The Night Merkel Lost" is how Spiegel Online put it, and "Merkel bows to Brussels" was the take of tabloid market leader Bild. What they refer to is the result of a 13-hour marathon meeting at the European Council in the Belgian capital, in which Merkel found herself increasingly isolated with her tough stance against softening the rules for helping EU economies suffering from the European debt crisis.
---