Bulgaria gay parade peaceful, despite provocations
A gay pride march in the Bulgarian capital Sofia stayed peaceful Saturday, but homosexuality remains a sensitive issue across the Balkans.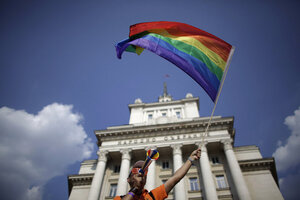 Stoyan Nenov/REUTERS
A Pride Parade in Bulgaria passed without threatened violence yesterday, but homosexuality remains a sensitive issue across the Balkans.
In the weeks before, fears of violence had been stoked by provocative language from opponents of the parade. Last week one small nationalist party paid for billboard advertisements across Sofia saying "Gay Parade Allowed – Smoking Banned. Which is more harmful for the nation?"
Global media attention was guaranteed when Father Evgeniy Yanakiev, an Orthodox priest from eastern Bulgaria, said "stones should be thrown" at parade participants, the Bulgarian newswire Novinite reported. A chorus of international disapproval called for the Bulgarian Orthodox Patriarchate to distance itself from the comments, but instead the church issued a statement condemning the parade itself as a "harmful demonstration that violates the rights of Orthodox Christians," according to Novinite.
Organizers said yesterday's parade, the biggest yet held in Bulgaria, is a step forward in highlighting the importance of tolerance for the gay community, but that there is a long way to go in broadening acceptance of homosexuals in society in the region.
"Everything was perfect," says Marko Markov, one of the parade organizers. "For four consecutive years there has been no violence at all at the parade itself, though we were very concerned this year. The far right is very loud but they know they can't harm us."
During Bulgaria's first Pride Parade, in 2008, extremists threw petrol bombs at marchers.
Pride events elsewhere in southeast Europe have attracted controversy and occasional violence.
---