Sweet football victory helps Spain forget economic crisis
Spain's defeat of Italy in the UEFA cup is a welcome morale boost for many Spaniards.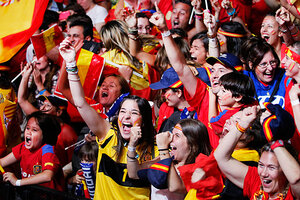 Andres Kudacki/AP
Today Spaniards bask under a red blaze of pride and triumph. The national football team – nicknamed La Roja for the team's colors – conquered the Euro Cup and broke a list of world records in the process, giving a knocked country's morale a mighty adrenaline boost, even if only momentarily.
It's as if a giant red brush colored the country, from light posts and balconies, to plastered body paint and shiny lipstick. Spain trounced Italy in the Euro Cup final in Kiev 4-0, with an impressive show of skill and humility.
It's the first team in history to ever win three consecutive world-class titles, following the Euro Cup in 2008 and the World Cup in 2010. And there is just little room for a reality check, even if it's just a few headlines away: rampant joblessness, a worsening recession, a humiliating European bank bailout of up to 100 billion euro, and utter uncertainty over the future.
For now, Spain has only one voice and it's all about forgetting about reality to bask in the glory. Television audience broke all records watching their team play. Crowds chanted in Madrid's streets: "Champions, champions," or "I am Spanish, Spanish, Spanish!" or "Que Viva España!"
"There is no crisis today," say Francisco Troncoso, an unemployed construction worker posing for a photograph with his two teenage children and wife while he waited, along with tens of thousands more fans, for Spain's football team to ride along a victory tour in Madrid ending in the emblematic Cibeles Plaza.
---