Barclays scandal prompts furious public backlash in Britain
Barclays CEO Robert Diamond resigned today. As investigations of lending rate manipulation continue a government official says a 'culture that had flourished in the age of irresponsibility' must end.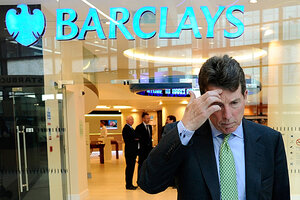 Dylan Martinez/Reuters/File
A scandal that has engulfed one of Britain's biggest banks is expected to spread to more financial institutions, intensifying a furious public backlash against a banking culture charged with greed, incompetence – and now corruption.
The reputation of Barclays, Britain's second-biggest bank by assets, was dragged through the dirt last week when it was fined a record $453 million by financial authorities in Britain and United States for attempting to manipulate the key London Interbank Offered Rate (LIBOR), which is a measure of lending rates between banks, and operates as a benchmark to price trillions of dollars in derivatives, mortgages, and bonds.
Barclays admitted that it had made "artificially low … submissions" – that is, lied, about the interest rate at which it was borrowing. Sometimes it lied about the rate to create the false impression that the bank was seen as a low-risk borrower by its peers, and at others it lied to manipulate the value of derivatives tied to LIBOR to generate short term trading profits.
Monday, Barclays' chairman Marcus Agius resigned, saying "the buck stops with me." That turned out to be untrue. Tuesday morning, Barclay's American chief executive, Robert Diamond, who had insisted he would hold onto his job while waiving his bonus, also quit.
---