Win-win moment in Europe takes edge off summer of gloomy predictions
Ugly eurozone-crisis dynamics threaten to make it a summer of social unrest. But Spain's Euro2012 win and Germany's agreement on a European rescue fund have shifted the tone.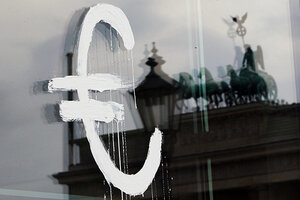 Thomas Peter/Reuters
Europe moves into summer on a more affirmative note after an EU decision to pull Italy and Spain from the brink, and after a remarkable victory by Spain in the Euro 2012 games Sunday that restored national pride just when it was at an ebb.
Ugly euro-crisis dynamics threaten to make it a summer of gnashing teeth and social unrest, especially on Europe's southern tier, where unemployment among youth averages 40 percent.
And now with an audit in France showing that President François Hollande must find $40 billion in austerity cuts in the next 18 months, it is hardly business as usual on the Continent during vacation.
But spirits lifted almost in surprise after Germany's chancellor Angela Merkel made concessions from her austerity-only approach last week, and streets in Madrid turned ecstatic after the Spanish team won its third straight international match, something never done before.
---