French paper asserts officials know more about Arafat's death than told
French newspaper Le Figaro carried a piece today, citing an unnamed official, that asserts details of Palestinian leader Yasser Arafat's 2004 death have been concealed.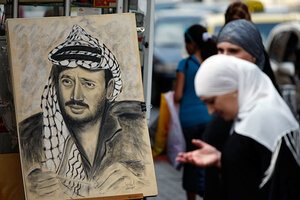 Majdi Mohammed/AP
French newspaper Le Figaro, citing an unnamed member of the French secret service, today said authorities know more of the causes of Yasser Arafat's 2004 death at a French military hospital than they have publicly released.
The story follows a series of Al Jazeera reports this week that high levels of polonium-210, a difficult to manufacture radioactive isotope, were found in Arafat's personal effects. The report reopened a long and emotional controversy over whether the Palestinian leader died by foul play – one bringing great debate in France at the time.
Today's Figaro story, "France knows but will remain silent," by journalist Georges Malbrunot, discusses medical analysis of Arafat by French doctors from the time of his death that has never been released in full. The Figaro piece wasn't clear on whether he's referring to the over 500 page medical analysis produced and acknowledged at the time, or some other document. The main French report was not released at the time of his death at the request of his widow Suha Arafat, though parts of the report, which determined he died of natural causes, have leaked out over the years.
---