Mladic trial: first witness recounts escape from massacre during Bosnian war
The International Criminal Tribunal for the former Yugoslavia heard a first witness today in its pursuit of a genocide verdict to prove ethnic cleansing campaign was 'joint enterprise.'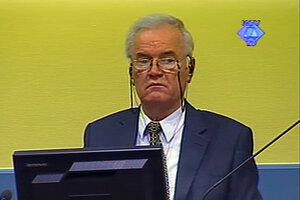 ICTY VIDEO/AP
For more than three hours on Monday, the first witness in Bosnian Serb General Ratko Mladic's war crimes trial Elvedin Pasic told a harrowing story of wandering for months through fields and towns of Bosnia at age 13 with his family, before finally being rounded up - then escaping a massacre by Serb soldiers of some 150 Muslim men, including his father.
Mr. Mladic, captured in June, 2011 after 15 years on the run, faces 11 counts of genocide and crimes against humanity in one of the final trials of the Yugoslav tribunal, set up by the UN in 1993 as the first court of its kind. As his trial resumed today, hundreds of Bosnians gathered in the streets of Sarajevo to remember the killing of some 7,000 men in Srebrenica, the worst single act of brutality in Europe since the Nazi period.
The opening of the Mladic trial has gone through a series of embarrassing delays. In both May and June prosecutors failed to turn over parts of key documents, requiring a restart today.
Mr. Pasic, now 34, testified about ethnic cleansing in Bosnia and described life near Grbavica before the war as a time of ethnic harmony. He had many Serb and Croat friends and schoolmates – "we played basketball [and] shared everything … shoes and shorts, we had a great time" – before he was forced to escape his home and go on the run.
---