Have the Olympics gotten too big?
London residents today lost a bid to stop rooftop missile deployments. Many Britons are questioning Olympics they say are most notable for super-sized costs and security.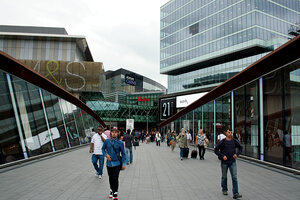 Ben Arnoldy/The Christian Science Monitor
Sometime after 11 miles of electric fence went up, and local shops went under after the biggest shopping mall in Europe arrived, and missile batteries appeared on rooftops, East Londoners' enthusiasm waned for the Olympic Games that are coming to their doorsteps.
Residents living around the new sports venues – not to mention the freshly finished hotels and store fronts – packed into a church recently to discuss how to oppose the missiles. But aside from the unease over living in close proximity to such major weaponry, a wider bitterness permeated the 200-member audience.
When London bid for the 2012 Games, British officials dazzled the Olympic committee with the idea of using the event to lift up and redevelop the down-at-the-heels East End. With just days to go before the opening ceremony, however, some of the most strident critics of the Games are East Enders, many of whom have felt sidelined by security officials and corporate interests that have transformed this long-neglected corner of town.
Boos sounded when one speaker sheepishly admitted to looking forward to the Games. Resident Len Aldis summed up the prevailing mood: "The spirit of the founding of the Olympic Games has been lost."
Britain as a whole, meanwhile, is ambivalent about the Games, in contrast to the joyful eruptions in 2005, when London learned it would make history by hosting its third Olympics. Now, only 44 percent say the country should have offered to host them; and in an age of austerity, the potential price tag to the public of $17 billion – nearly triple the bid estimate – does not sit well. The muchness of it all leaves some asking if the Olympics have gotten too big, and too tied to the ambitions of big business and big government.
---