The Socialist, the Tory, and the queen: Hollande visits UK
France's President Hollande is on his first state visit to Britain, where he is talking eurozone strategy with the prime minister and chatting – en français – with the queen.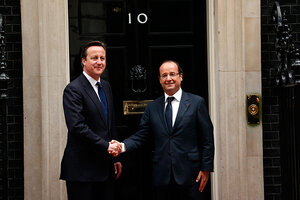 Matt Dunham/AP
The French Socialist today meets the British Tory at 10 Downing. But President François Hollande also visits the queen and will help her practice some French.
Mr. Hollande, elected in May, is in London for his first state visit with Prime Minister David Cameron, a trip loudly touted as warm and cordial.
The latest chapter of the famed Franco-British "entente cordiale" got off to a slightly rocky start at the G-20 in Los Cabos, Mexico, when Mr. Cameron told world leaders that Britain would "roll out the red carpet" for French citizens seeking a UK tax shelter in the wake of the Socialist victory. The remark stung in France where, despite Hollande's promotion of "growth" initiatives to ease the euro crisis, he is readying the kind of deep cuts in public spending that Cameron has implemented in Britain.
Some 400,000 French live in London, making it the seventh-largest French city, as British foreign secretary William Hague recently noted. The French newspaper Liberation tweaked Cameron today for his earlier comments in a headline: "Cameron unfolds the red carpet for Hollande in official visit."
---