Russian crackdown on dissent goes virtual
In its most recent attempt to quell dissent, Russia adopted a new Internet bill that appears aimed at restricting public debate.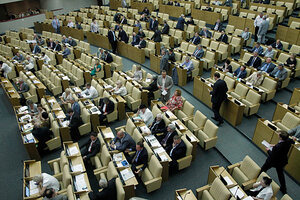 Misha Japaridze/AP
In a pattern that's becoming familiar, Russia's State Duma has rushed through parliament a new Internet bill that appears aimed at restricting the means of public debate and protest.
The new bill, which has yet to be ratified by the upper house of parliament and signed into law by President Vladimir Putin, raced through three parliamentary readings in just a few days and was adopted by the Duma on Wednesday. It would authorize the creation of a special federal agency to determine which websites should be shut down, and force Internet providers to install expensive "filtering" equipment to black out illegal content – and potentially any content.
"The danger here is that a mechanism is created to block any material on Internet sites. Whether and how this mechanism will be used is another matter, but it will exist," says Stanislav Kozlovsky, director of Wikimedia.ru, which is associated with the Russian-language version of Wikipedia. "In fact the means of censorship have been introduced."
It comes on the heels of the fast-track adoption of a series of new restrictive laws. A draconian law on public rallies was passed last month providing tough penalties for anyone engaging in non-sanctioned protests. Last week the Duma introduced another controversial bill that will force foreign-funded NGOs engaging in loosely-defined political activism to self-identify as "foreign agents." The bill is expected to be passed within days.
---