Russia and the West lock horns over Syria
President Putin offered no indication that Russia will support a UN Security Council resolution backed by the US, Britain, and France that would open the door for military intervention.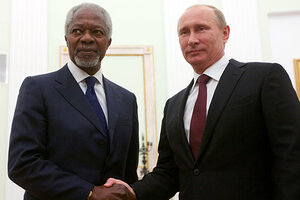 Alexander Zemlianichenko/AP
Hopes for a diplomatic compromise between Russia and the West over any kind of an orderly transition from the regime of Bashar al-Assad petered out Tuesday – amid fulsome support for peace and civic accord in Syria from Russian President Vladimir Putin.
Meeting in the Kremlin with UN envoy Kofi Annan, even as fighting raged in the streets of Damascus, President Putin insisted that the Kremlin will "do everything" to back the faltering six-point peace plan, which envisages a cease-fire, UN observers on the ground, and talks between rebels and regime over a transitional government.
"From the very start, from the first steps, we supported and continue to support your efforts aimed at restoring civil peace," Putin told Mr. Annan, according to Russian news agencies. "We will do everything that depends on us to support your efforts," he added.
---