Bonuses for bureaucrats who help Brits off welfare
In a major push to reduce welfare rolls, the UK is offering local authorities bonuses for meeting specific targets, from reducing truancy to helping individuals find jobs.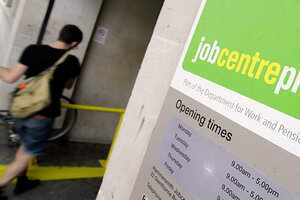 Alastair Grant/AP
David, a 48-year-old unemployed chartered surveyor from South London accepts, with a grim smile, that he is an archetypal member of what the government calls a "troubled family," impoverished and dependent on the state.
Out of work for 18 years and addicted to heroin, he lives in a government-owned apartment and depends on unemployment benefits of $105 a week to survive, as does his wife. Two of the couple's children are grown, but their nine-year-old daughter lives in a care home.
This summer, the government launched a new $700 million plan, whereby local authorities will be paid by results. If they meet specific targets, from reducing truancy and youth crime to getting parents into jobs, the government will pay the local authorities up to $6,000 per family. The system works like a bonus, but more like a necessary one since authorities are increasingly cash-strapped after wide-ranging cuts.
The government's bold new push to cut state handouts ­– a key part of wider efforts to plug its budget deficit – has focused on an estimated 120,000 families that the government defines as "troubled," based on indicators such as having no parent with a job to living in poor-quality housing. The government estimates that such families cost the state around $14 billion a year and perpetuate the problem of welfare dependency.
Generations of trouble
---