Conservatives of a feather? Romney meets with British PM Cameron
US presidential candidate Mitt Romney is meeting with British Prime Minister David Cameron today. They represent right-wing parties that were once close but have since drifted apart.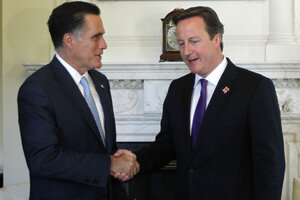 Charles Dharapak/AP
Mitt Romney will be keen to forge a bond with Britain's prime minister, David Cameron, when the two men meet at Cameron's official address, 10 Downing Street, this afternoon.
The Republican presidential candidate spoke before the meeting of his belief in the "special relationship" between the United States and Britain. But he will also be seeking to re-establish the close bond that once existed between the US Republicans and the United Kingdom's Conservative party, which Cameron leads.
This isn't Romney's first exchange with the British prime minister. The two talked during a visit made by Romney to London in 2011. But Cameron clearly has an affinity with President Barack Obama that Romney will be eager to emulate. During a visit to the US in March, Cameron spoke of Obama's "moral authority," describing him as "an ally, a partner, a friend."
The British prime minister may take the opportunity of his meeting with Romney to achieve some balance in his dealings with the two US parties, say analysts. By welcoming Romney to his official residence and reawakening the friendship that existed between the US Republicans and the British Conservatives in the 1980s, Cameron will earn the approval of some of the more right-leaning members of the Conservative party, whose MPs span an unusually broad spectrum from left to right.
On social mores, Cameron probably shares more views with Obama than Romney. He is, for example, in favor of legalizing gay marriage and has said he supports the idea of gays being able to marry in church.
---