Romney visit: 'Poland stands as defender of freedom'
Mitt Romney was received by crowds of cheering Poles, but critics denounce American disregard for Polish war efforts in Iraq and Afghanistan.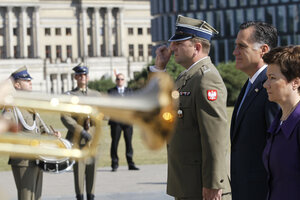 Charles Dharapak/AP
In Gdansk, Poland, yesterday, the final stop of his three-country overseas tour, Mitt Romney met with former Polish President and Nobel Prize winner Lech Walesa and the country's prime minister, Donald Tusk.
The presidential candidate was received in the birthplace of Poland's communist-era democratic trade union Solidarity by crowds of cheering Poles, as well as several dozen protesters.
One group of protesters chanted "Obama, Obama" as Mr. Romney left the meeting with Mr. Tusk, while another group held a banner supporting Romney's Republican rival Ron Paul.
Poles are disgruntled over the US's waning attention and disregard for their war efforts in Iraq and Afghanistan, but Poland is still considered one of the most pro-American countries in Europe. Local observers say the US presidential candidate was received with praise because of Poland's desire for reassurance about its importance in American foreign policy.
"You often hear that Poland is one of the most pro-American countries in Europe, but people would like to see more tangible proof that the feeling is mutual," says Teresa Nowak, a local shopkeeper. "After we fought in Afghanistan and Iraq alongside the US, it would be good to ... have our safety strengthened by [the missile defense system]."
---