Spain arrests three Al Qaeda suspects amid concern about 'lone wolves'
Spanish officials have arrested three suspected Al Qaeda operatives. They say the militants were planning an attack in Spain or possibly other European countries.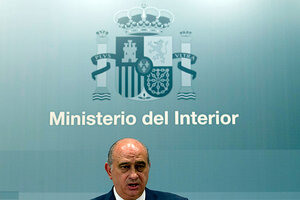 Paul White/AP
Spanish authorities have arrested three suspected Al Qaeda militants who were allegedly planning an attack in "Spain and/or other European countries" and confiscated enough explosives "to destroy a bus," Interior Minister Jorge Fernández Díaz said today in a press conference.
"It's one of the most important international [operations] against Al Qaeda," Mr. Fernández Díaz said. "According to the information from allied intelligence services that are helping in this operation, I can confirm that there are clear indications that these people were planning" a terrorist attack, he said.
Western security officials have grown more concerned about the terrorist threat posed by so-called lone wolves – people who have sympathies with Al Qaeda but act alone or as a small cell, without direction from an organizational authority. Intelligence services suspect there are dozens of such militants in Europe. They are harder to trace or identify than organized groups, as they usually remain inoperative for years.
One Turkish man was detained yesterday in Cádiz in southern Spain, while two men from Russia – still to be identified – were detained hours earlier, "presumably on their way to France," when the passenger bus they were traveling on made a rest stop, Fernández Díaz said. One of them put up "colossal" resistance, using military training.
Spain has struggled against Al Qaeda-inspired terrorism for more than a decade. In 2004, an operationally independent cell with ideological ties to Al Qaeda killed 191 train commuters in Madrid. Since then, dozens of suspected militants, mostly tied to Al Qaeda-based terrorist groups in northern Africa, have been arrested, although most of their activity has concentrated on fundraising and recruiting.
---