Pussy Riot trial: Putin expresses hope for 'correct decision'
Popular sentiment about the trial of Pussy Riot, a band accused of profaning a Russian Orthodox altar, has shifted amid dismay over the women's harsh treatment. Putin has now weighed in.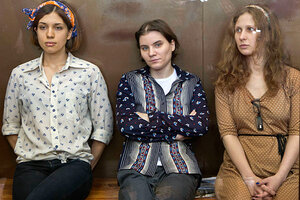 Misha Japaridze/AP
President Vladimir Putin has finally weighed in on the ongoing trial of the Pussy Riot punk rockers, which has dominated Russia's Twittersphere and blogosphere all week, and has offered his opinion that the three young women accused of profaning a Russian Orthodox altar with an obscenity-laced "punk prayer" should not be punished "too harshly."
"There was nothing good about that [Pussy Riot's alleged performance in Moscow's Cathedral of Christ the Savior last February]," Mr. Putin told reporters in London, where he is attending the Olympic Games. "Nevertheless, I don't think they should be punished too harshly. I hope they will draw some conclusions themselves."
"It's the court that must issue the final decision," Putin said. "I hope the court issues a correct decision, a well-substantiated one."
Putin's remarks have greatly encouraged sympathizers of the Pussy Riot women, who face up to seven years imprisonment for an act that may have been blasphemous in the eyes of the powerful Russian Orthodox Church, but has legal experts scratching their heads to find any corpus delicti, or evidence of an actual crime, under the terms of Russia's secular Constitution.
---