France dismantles camps, deports Gypsies
Unlike former President Sarkozy's virulent anti-immigrant media campaigns, the new Socialist government says it is motivated by health, sanitation, and security.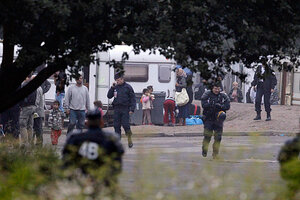 Pascal Rossignol/Reuters
The Socialist government of Francois Hollande this week ordered the dismantling of Gypsy camps around the country, leaving 150 people homeless, and deporting 240 Gypsies, also called Roma, to Romania.
The forceable action against foreign-born Roma from East Europe, who are known here as "travelers," is coming under attack as the same policy conducted by Mr. Hollande's predecessor, Nicolas Sarkozy, which EU officials at the time compared to Nazi-era tactics.
Yesterday camps of some 350 Roma were taken apart in Lille, near the border of Belgium, following similar police actions in Lyon and Paris earlier in the week.
Hollande vowed in his presidential campaign not to dismantle Roma camps without finding proper housing for families. Yet the new Socialist president is relying on mayors in local prefectures to find that housing, with mixed results.
In the summer of 2010 France earned a firestorm of approbation for roundups of Roma. EU justice minister Viviane Reding said she was "shocked" at police targeting a vulnerable minority and opened a legal challenge against France on grounds of racism and discrimination.
---