Checklist for disaster first-responders: food, blankets – and wi-fi
An Irish-based aid agency has developed a wi-fi system for use immediately after a natural disaster, when communications can be near-impossible. The US Navy is testing it this week.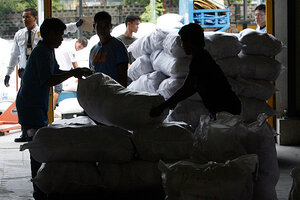 Romeo Ranoco/Reuters
An Ireland-based aid agency is working with the US Navy in a disaster simulation at Camp Roberts, Calif., this week to test a local communications system in an effort to improve telecommunications in the immediate aftermath of natural disasters.
When disaster strikes, whether in Indonesia, Haiti, or Japan, the aftermath is much the same: chaotic. As the government, various charities, and family members struggle amid downed telephone lines to find and communicate with missing persons, communications are notoriously slow-going and disparate.
If successful, the new system will allow NGOs, charities, other relief organizations, as well as survivors and relatives, to share communications. It would significantly reduce the chaos surrounding the aftermath of a disaster, obviating the need for separate groups to set up multiple private networks and drastically cut the time it takes to rescue and connect disaster victims.
Disaster Tech Labs, a charitable organization founded by Ireland-based Dutchman Evert Bopp, is behind the project. Mr. Bopp, an IT businessman, says he got the inspiration from watching what happened during the 2005 Indian Ocean tsunami.
He says the project finally crystalized when he got involved in the relief effort after the 2010 Haiti earthquake. 

After he developed ad hoc networks on the ground in Haiti, under the name Haiti Connect, Bopp decided to attempt to codify the setup — and to take it global.
---