Germany debates plan to pay stay-at-home moms
Germany's conservative coalition is pushing to pay moms who stay home to care for children ages 1 to 3. Opposition parties are outraged, calling the plan an antiquated take on family politics.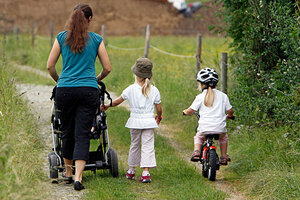 Michaela Rehle/Reuters
Germany's conservative coalition, led by Chancellor Angela Merkel, is planning to pay mothers who stay at home to care for their children. The draft law has touched off debate between those who see this as offering more people the option of staying at home and those who see it as a missed opportunity to expand access to affordable child care outside the home.
Private daycare or nannies are uncommon in Germany, and most often only chosen if government-funded or church-funded daycare is not available. But the government system struggles to handle the demand, especially in large cities like Berlin, Munich, or Hamburg, where parents scramble to register for daycare even before their child is born. Private daycare for little children is on the rise, but expensive.
The proposed law, which is scheduled to be debated for a second time in parliament at the end of August, might ease some of the burden on the system. Women would receive 150 euros per month (about $190) if they decide to look after their children ages 1 to 3 at home rather than sending the child to government-funded daycare. Generally, parents can take up to three years off and still have their jobs guaranteed. During these years off, if the employer doesn't pay the parent, the parent can receive money from the government for up to 14 months, with the amount based on their previous salaries. The planned 150 euros per month would go on top of that.
---