In desecration of crosses, Russia's Orthodox church sees dark warning
The Russian Orthodox Church said an antireligious campaign – in sympathy with Pussy Riot punk band – was under way after four large wooden crosses were destroyed over the weekend.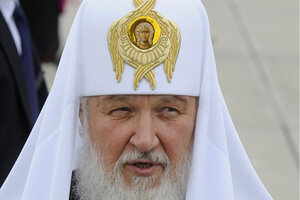 Alik Keplicz/AP
The Russian Orthodox Church is warning of an organized antireligious campaign under way against Christians in Russia, after vandals in two widely separated regions took chainsaws to four large wooden crosses over the weekend.
Church spokespeople maintain the damage was done by people who are either in sympathy or in league with the Pussy Riot collective, three of whose members were sentenced to two years in a penal colony earlier this month for profaning an Orthodox altar with an obscenity-laced "punk prayer" that called upon the Virgin Mary to rid Russia of Vladimir Putin.
The four crosses were chopped down by unknown persons who left police no clues to their motives or identity. One was a large wooden crucifix erected to the memory of Soviet-era political prisoners in the far northern region of Archangelsk. Russian media reported three more wooden crosses were destroyed in Chelyabinsk region over the weekend, which is thousands of miles away in western Siberia.
A local priest in Archangelsk, Hegumen Feodosy, told the state-run Russia Today network that the destruction of the cross, just across the street from his church, was the latest in a series of arson and vandal attacks on religious symbols in his locality and around Russia.
---