French push for Syrian provisional government: premature?
French President François Hollande called yesterday for the Syrian opposition to form a provisional government. But, critics note, that's easier said than done.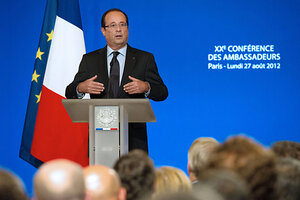 Bertrand Langlois/AP
In a somewhat unexpected move, France took the rhetorical lead yesterday in the Syrian conflict by urging Syria's fractious opposition to form a government, which France would then recognize. But while President François Hollande's call underscores the West's intent to help the Syrian rebels, morning-after analysts here wonder if the French president's statement isn't a bit premature.
Mr. Hollande yesterday told an annual late-August meeting of French diplomats at the Elysees Palace that, "France asks the Syrian opposition to form a provisional government – inclusive and representative – that can become the legitimate representative of the new Syria."
"We are including our Arab partners to accelerate this step," he told the gathering. "France will recognize the provisional government of Syria once it is formed."
The request could conceivably push the unruly parties in and out of Syria, who have struggled to unify, to put their house in order.
It also gives Hollande, who is under attack in France by pro-Syrian interventionists for not doing more in the raging conflict, some political cover. Earlier this summer former President Nicolas Sarkozy blasted Hollande for being wishy washy on Syria, and the current French president is also being urged to act by military interventionists on the left like the French intellectual Bernard-Henri Levy. And according to a collection of polling data published yesterday by WorldPublicOpinion.org, 51 percent of the French population would support a UN-sanctioned military intervention in Syria.
But while Hollande's statement might soothe domestic critics, it has received a somewhat cooler response abroad.
Samir Aita, a French-Syrian and member of the opposition National Democracy Forum, reached in Cairo, complained that the French had not been working with the main Syrian opposition groups.
---