Euro debt crisis top of mind as Dutch head to polls
As The Netherlands feel the pinch from austerity measures, Wednesday's Dutch parliamentary election will likely turn on the degree to which voters are willing to commit to the eurozone.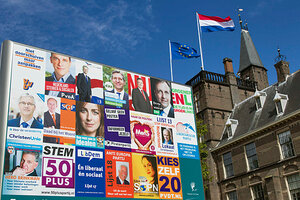 Michael Kooren/Reuters
Martijn van Dam, a Dutch member of parliament for the pro-Europe Social Democrats party, has a simple reason for why the European common currency has to prevail. "The Netherlands is a small country. If we want to compete with China, India, the US, and Brazil, we will have to work together with other European states," he said at a recent debate in Amsterdam.
But despite being one of the six founding countries of what is now the European Union, The Netherlands have become increasingly skeptical about the bloc and its currency as the eurocrisis has spread across Europe. Now, the Dutch parliamentary elections look set to be an unofficial referendum on the Netherlands' commitment to the future of European integration.
Dutch voters will go to the polls on Sept. 12 to elect a new parliament, five months after the collapse of the coalition government led by Prime Minister Mark Rutte of the center-right Liberal party. And while The Netherlands face an array of concerns, including rising unemployment (6.5 percent of the Dutch are now without a job) and increasing healthcare costs, it is the eurozone that is drawing the most attention in the campaign.
---