Anti-Putin protests waning? Tens of thousands of Russians say no.
On Saturday, an energized Moscow crowd as large as many of those from last winter and spring protested against Russian President Putin. But this time, the tone was far more politicized.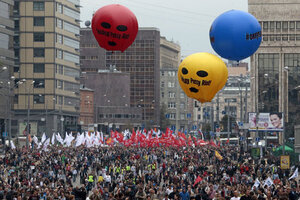 Mikhail Metzel/AP
Tens of thousands of Russians defied predictions of the anti-Putin protest movement's demise Saturday, and filled Moscow's cavernous Sakharov Avenue with a diverse and sometimes fractious crowd that was as large as many previous demonstrations last winter and spring.
As usual, estimates of the rally's size swung wildly between a police tally of 14,000 to organizers' claims of 100,000 or more. Neither source has any track record of accuracy. Journalists on the scene said at least 25,000 people were present in the gigantic space at the meeting's peak.
The mood was upbeat, and as before, protesters said they were fed up with Russian President Vladimir Putin, the highly orchestrated top-down nature of Russia's political system, corruption, and the lack of rule of law.
Some said that recent tough signals from the Kremlin that penalties for protest will be much harsher, such as the two-year prison sentence handed down to three Pussy Riot women last month, or last week's expulsion from the Duma of opposition-sympathizing parliamentary deputy Gennady Gudkov, have only strengthened their resolve to continue protesting.
---