Appearance of explosive WWI relics underscores Alps glaciers' retreat
The Alps' glaciers are in retreat at an alarming rate due to rising temperatures – as indicated by the discovery of rusted explosives left over from a nearly hundred-year-old cache.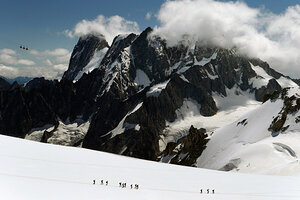 Denis Balibouse/Reuters
They lay undetected for more than a century, a hidden legacy of the highest, most forbidding battlefield of World War I.
But last month, as Italy sweltered through one of the hottest summers on record, a cache of more than 200 rusted explosives emerged from beneath a melting sheet of ice in the Dolomite range in the country's north.
The appearance of the explosives – at the end of the hottest summer since 2003 and one of the warmest since record keeping began – fed concerns about Italy's rapidly dwindling glaciers and the threat posed by global warming. Across the Alps – not just in Italy but in neighboring Austria, Switzerland, and France – glaciers are in retreat at an alarming rate due to rising temperatures.
"In the worst-case scenario, by the end of the century glaciers in the Alps will be reduced to 5 to 10 percent of what we have now," says Michael Zemp, a scientist with the World Glacier Monitoring Service.
'Strange objects' in the ice
The explosives – probably stored in an ammunition dump carved into what was once a massive glacier – were discovered by mountain-rescue experts during a routine border-police patrol.
They emerged from the 10,500-foot-high Ago di Nardis glacier in the Trentino region of northern Italy, which, during World War I, was bitterly contested by Italian troops fighting the opposing forces of the Austro-Hungarian empire.
The armaments, each weighing up to 22 lbs., were removed after the patrol noticed "strange objects" sticking out of the melting mass of ice.
---