To ban or not to ban? German right-wing group to show anti-Islam film.
After protesters torched the German embassy in Sudan last week, a German right-wing group announced plans to screen 'Innocence of Muslims.' Now officials are weighing a ban of the event.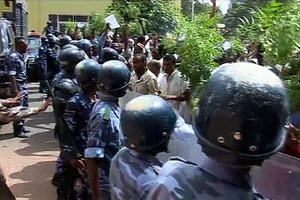 Reuters TV/Reuters
If Germans thought the international protests against an anti-Muslim video produced in the US had nothing to do with them, they now know they were wrong.
After protesters in Sudan's capital Khartoum set fire to the German embassy there last week, an anti-Muslim organization in Germany announced it would be staging a public screening of the video later this year. Now Germany's political class is debating whether or not such an event should be banned.
Chancellor Angela Merkel rejected accusations that banning the screening would violate freedom of speech. "We are not intending to ban the film," she told journalists in Berlin on Tuesday. "We are checking if a public screening might disturb the peace and should therefore be prohibited."
The interior minister, Hans-Peter Friedrich, is convinced that a public screening of "Innocence of Muslims" by the anti-Muslim "Pro Deutschland" group must be prevented. "This would constitute a political demonstration. They are recklessly pouring oil on the fire. We will exhaust all legal possibilities to stop such a demonstration from happening," Mr. Friedrich told German broadcaster Phoenix.
The political opposition is not so sure though. "The film is tasteless nonsense," says Green parliamentarian Volker Beck, "but it does not break any laws." Katrin Göring-Eckardt, vice president of Germany's parliament and a member of the Green party, argues that "the video is not worth risking our right to freedom of speech for."
---