As Anglican Church picks new leader, gay marriage weighs heavily
The Anglican Church makes its final recommendation to government for a new Archbishop of Canterbury this week. Whoever gets the nod will have to resolve the church's split on gay marriage.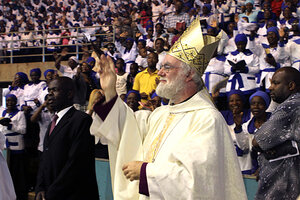 Tsvangirayi Mukwazhi/AP
Looking back recently on a 10-year tenure marked by bitter conflicts between liberals and traditionalists, the leader of the Church of England and the wider Anglican Communion suggested that his job might really call for two people.
The remarks by Rowan Williams, who steps down in December as the Archbishop of Canterbury, were interpreted as signaling that the church was planning to appoint a 'global president' to relieve his successor of some of the burden of heading a communion said to encompass 85 million people.
But as the Church of England group tasked with finding a new leader meets for a third and final time this week before recommending a new leader, such talk has faded. Attention has turned to the shifting field of frontrunners and where they are perceived to stand on divisions that sometimes seemed about to rip Anglicanism apart.
While the question of female bishops remains fraught, there is little doubt that the most difficult issue that will be waiting on the desk of the new archbishop – who ultimately must be approved by the queen – will center on how the church views gays.
Crucially, the Church of England will tackle the issue in two reports in the next two years: one on civil partnerships, which were introduced by the British government in 2005 to give same-sex couples the same legal rights as married couples, and the other on the wider issue of human sexuality. Both are expected to come up with conservative-leaning recommendations, while the church is already at loggerheads with the government over new proposals to legalize gay marriage.
---