Gay Germans tap Oktoberfest to make push for marriage rights
Oktoberfest celebrations like 'Gay Sunday' this past weekend are helping gays and lesbians boost their visibility at a time when Germany is debating gay marriage.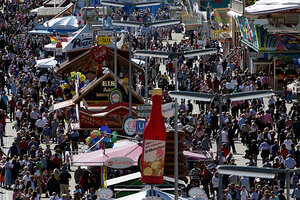 Matthias Schrader/AP
By early afternoon on the first Sunday of Oktoberfest this past weekend, the Bräurosl beer tent in Munich was already filled with thousands of merry revelers in lederhosen, singing and drinking.
At one table, Christian Schröder, an electrician from Stuttgart, sat with his partner of 10 years, Thomas Hartmann. "This is to the gays!" Mr. Schröder shouted. "The right to do this is what we fight for!"
There's a simple rule at Munich's world-famous Oktoberfest: It's all about the fun. Politics isn't supposed to play a role at all in the 16-day event, which annually attracts more than 5 million visitors and floods Munich with parties, parties, and more parties.
But at Oktoberfest celebrations like "Gay Sunday" – one of several events dedicated to gays and lesbians that now draw thousands of revelers – politics has inevitably seeped into the mix. At a time when gay Germans are fighting hard for the right to marry, activists quietly say that their increasingly high visibility at Oktoberfest – perhaps the most quintessentially German cultural event – is forcing others to take notice.
Currently, permanent partnerships are allowed under the law, though gay couples can only be in registered partnerships that don't enjoy the same benefits, such as tax savings, as do marriages. As the matter winds through the courts, it has deeply split Germany's pro-business and center-right ruling coalition.
---