Why has it taken Britain eight years to extradite Abu Hamza?
British extradition proceedings against the militant cleric Abu Hamza, wanted in the US on terror charges, began in 2004. But only this week has an end to the legal process become visible.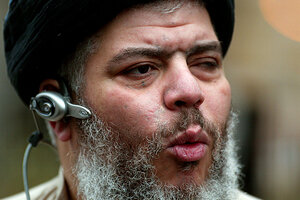 John D McHugh/AP/File
Eight years after the first steps to extradite to the US one of Britain's most notorious extremists, that legal saga is likely to come to an end next week should he fail in a last-ditch legal gambit to prevent his removal.
Yet even before the latest delay, legal deliberations over the fate of Abu Hamza – originally arrested in 2004 on a US extradition warrant for allegedly organizing a militant training camp in Oregon and assisting in kidnappings in Yemen – had long tested the patience of many, as the case wound its way through British and European Courts.
While not mentioning the case specifically, none other than the most senior judge in England and Wales suggested Thursday that he was as frustrated as anyone.
The Lord Chief Justice, Lord Judge, said it was "a real source of fury" to him that cases should take as long as eight years to go through the courts as different grounds for appeal are attempted, and that there was a "great public interest" in allegations concerning terrorism being dealt with swiftly.
Human rights violation?
The comments by Lord Judge were welcomed by MPs as well as news outlets that have focused on the cost to the tax-payer of providing legal aid to Hamza and channeled anger at perceived foot-dragging by the European Court of Human Rights (ECHR), which ruled back in 2008 that extradition could not take place until it examined the case.
Hamza had argued that his extradition to the US, where he could face a life sentence in a supermax prison if convicted, would run afoul of European human rights prohibitions against torture and ill treatment.
---