Russia keeps door open to Pakistan after Putin cancels trip
Russian Foreign Minister Sergei Lavrov arrived in Islamabad yesterday in an apparent effort to smooth feathers ruffled in Pakistan by Putin's last- minute cancellation of his own scheduled visit.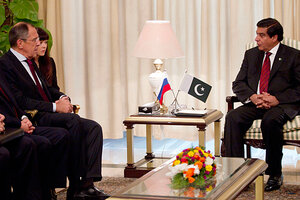 B.K. Bangash/AP
Confusion surrounds the Kremlin's hopes of establishing a tighter relationship with Pakistan, in advance of NATO's planned 2014 withdrawal from Afghanistan, after President Vladimir Putin abruptly canceled a visit to Islamabad planned for this week.
It would have been the first visit to Pakistan by any Soviet or Russian head of state, and a strong signal that something might be changing in the foreign-policy calculus of a country that has always strictly regarded India as its No. 1 regional partner.
The Kremlin says Mr. Putin's trip to Pakistan was never officially confirmed and his working schedule this week is "too tight" to accommodate the two-day visit, which was to have included participation in a regular summit of regional leaders on Afghanistan and bilateral talks on trade, technical, and military cooperation with Pakistani President Asif Ali Zardari.
---