Anti-Putin opposition groups still finding their way
Despite the Russian opposition's ability to rally tens of thousands of protesters, it remains an eclectic mix of parties both left and right. Will opposing Putin be enough to keep them united?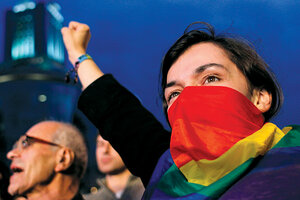 Maxim Shemetov/Reuters
Russia's angry anti-Kremlin street opposition, which erupted onto the scene following allegedly fraud-tainted Duma elections last December, is facing a deep identity crisis as it approaches its first anniversary and is racked with internal debate over the way forward.
Though it still has the ability to draw tens of thousands of protesters onto the streets of Moscow, as it did last month, the movement's initial focus on fair elections has clearly failed to force authorities to replay the flawed Duma polls. And that focus may no longer be enough to hold it together after Vladimir Putin won a decisive – and somewhat less disputed – victory in presidential elections last March that has brought him back to the Kremlin for another six years.
Preserving a coalition that embraces forces from the far left to the nationalist right is a lot like trying to herd cats, but leaders say the popular antipathy to Mr. Putin and his increasingly authoritarian style of rule is only growing, and crowds will continue to take to the streets at regular intervals, as they have for the past nine months. The next scheduled demonstration is in December.
"We are united, despite the diversity of our political views," says Sergei Udaltsov, leader of Left Front, a neocommunist organization that's been a key participant in the movement from the beginning.
"Everyone understands that it's useless to act alone; even when we're all together the authorities find it possible to ignore our demands. We need to stay united and resist all attempts to split us up and weaken us," he says.
---