US takes wait-and-see approach to Georgia's Ivanishvili
Although US supporter President Saakashvili lost Georgia's parliamentary elections, the US says that the peaceful electoral transition was a good start for Georgian democracy-building.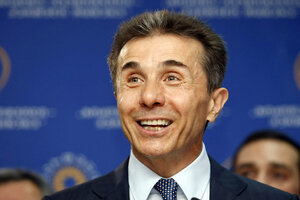 Shakh Aivazov/AP
When Secretary of State Hillary Clinton stressed that Georgia's Oct. 1 parliamentary elections were a "litmus test" for President Mikheil Saakashvili's commitment to democracy, nobody expected he would pass this test by conceding to a surprise defeat.
Now, the US has stepped back to see if the victor, billionaire Bidzina Ivanishvili, and his Georgian Dream coalition are as committed to democracy-building as Mr. Saakashvili.
Speaking at the Atlantic Council on Oct. 9, US Deputy Assistant Secretary of State Thomas O. Melia, of the State Department's Bureau of Democracy, Human Rights and Labor, said Georgia's remarkable parliamentary elections and power transition are "very hopeful developments," but added that much more needs to be done to consolidate democracy.
Tedo Japaridze, a seasoned diplomat and adviser to Mr. Ivanishvili, couldn't agree more. He says Saakashvili's foreign policy exploited the "beacon of democracy" image that President George W. Bush created on his visit to Tbilisi in 2005, following the Rose Revolution.
---