Syrian airliner spat sours improving Turkish-Russian relations
Turkey's grounding of a Syrian plane allegedly carrying weapons from Moscow to Damascus has put Moscow and Ankara – which have been cooperating in recent years – at odds.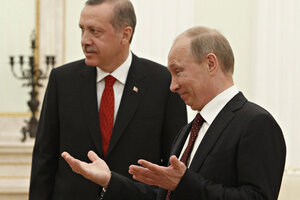 Sergei Karpukhin/AP/File
Russia kept up an angry flow of rhetoric Friday directed at Turkey, demanding that Turkish authorities reveal exactly what type of Russian "munitions" they claim to have found aboard a Syrian airliner forced down over Turkey on Wednesday.
The Russian Foreign Ministry also complained in a statement that the takedown of the jet was illegal, and that it "endangered the lives and safety" of 17 Russian passengers, who the ministry claims were subsequently mistreated and denied access to Russian consular officials for over 8 hours.
The incident comes amid growing confusion in Russia-Turkish relations. On Monday, two days before the aircraft was forced down, Russian President Vladimir Putin cancelled a state visit to Turkey that was to have begun early next week. Turkish officials would only say the trip was shelved due to "red tape."
"Relations between Russia and Turkey have been improving for the past several years, after decades of being on opposite sides of the cold war barricades," says Pavel Shlykov, an expert with the official Institute of Asia and Africa in Moscow.
"I really hope this incident with the plane doesn't affect the positive trend," he adds.
---