Europe's independence seekers: Scotland, Catalonia, and now ... Venice
Activists in Venice and northeastern Italy want to restore independence to the region, which had been a republic for more than 1,000 years before falling to Napoleon in 1797.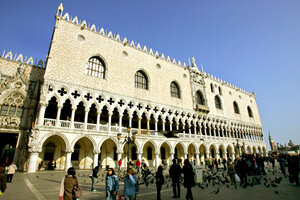 Matthias Schrader/dpa/file
It was once one of Europe's richest trading powers, with its ships and merchants found across the Mediterranean. Venice's glory days have long since passed, but it is now rekindling its heritage and weighing a return to independence from Italy.
It may seem fanciful, but a burgeoning independence movement is confidently predicting that it will achieve nationhood before two of Europe's other restive regions, Scotland and Catalonia.
It certainly has the historical pedigree – Venice was an independent republic for more than 1,000 years. That era came to an end in 1797 when it was invaded by Napoleon's armies, who deposed the last doge, the traditional leader of the Venetian republic.
Now activists want to carve out a new country in northeastern Italy which would comprise Venice, the surrounding region of Veneto and parts of Lombardy, Trentino, and Friuli-Venezia Giulia, which borders Slovenia and Austria.
The "Repubblica Veneta," as it would be known, would encompass about 5 million people.
---