Polish city of Wroclaw comes to terms with its German past
Communist Poland tried to stamp out Wroclaw's history – as the once-German city of Breslau – upon taking control of the city after World War II. But Wroclaw now is embracing its past.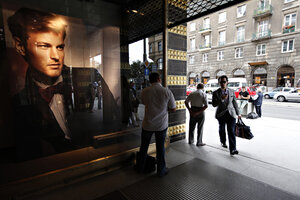 Kacper Pempel/Reuters
If there is one sign of Wroclaw's transformation from a peripheral city in southwest Poland into an assertive Central European cosmopolis, it is the popularity of its new literary hero, Eberhard Mock.
A German detective, Mr. Mock plies his trade in the 1930s, when Wroclaw was still the German city of Breslau – well before the Allies made it into a Polish city literally overnight, to compensate for the Soviet Union gobbling some of Poland's eastern territories after the war.
After its sudden transformation, Breslau, now renamed Wroclaw in Polish, sought to obliterate its German past, and few here would have picked up a book like "Death in Breslau." But today, the city is embracing its German roots, and the thriller is a bestseller.
"Eberhard Mock is the proof that we've accepted our German past, that we've overcome our German complex," says Wojciech Sokolnicki, head of public affairs for Wroclaw Economic University. "We've discovered Germany."
"We feel comfortable in our own skin."
Confronting a painful past
Facing up to German history took decades. It was the 1945 Potsdam agreement that led to one of the world's most radical transfer of peoples. The population did a topsy-turvy, German to Polish, overnight. Breslau's German inhabitants, those few that had survived war destruction, were expelled from what had been the capital of Germany's Lower Silesian province. New Polish immigrants, mostly pioneers from central Poland and refugees from further east, were catapulted into the city. Unlike those in Warsaw or Kraków, the new Wroclaw inhabitants were rootless. But they shared a pioneering drive to dig in, make a bang-up new beginning.
---