Spanish elections bolster Rajoy's austerity policies
Prime Minister Rajoy's ruling, pro-austerity party was a winner in Spain's regional elections this weekend, but so were independence-minded parties that could hurt his economic measures.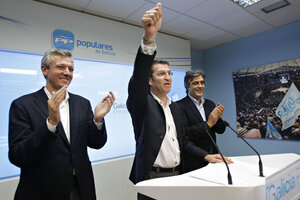 Miguel Vidal/Reuters
A strong showing in regional elections over the weekend gave the Spanish government much-needed breathing room – especially as it was coupled with the waning clout of its rival – to manage the country's economic crisis. But it also opened the door to more instability as independence-leaning parties made defining gains.
On the economic front, the ruling Popular Party and the government won strong support for its pro-austerity policies. In the western region of Galicia that borders Portugal, the PP renewed its absolute majority in the regional parliament, increasing its control. And in the Basque Country, the Nationalist Basque Party returns to power with the kind of austere economic policy that the central government is imposing.
In both cases the Socialist Party, the closest national rival of the ruling PP and a vocal critic of austerity measures, suffered significant losses at the ballot box, albeit to the benefit of more left-leaning parties.
"The two elections suggest voters are taking into the account the severity of the crisis and that sacrifices are inevitable," says Josep Oliver, applied economics professor in the Universidad Autónoma de Barcelona. The austerity policies implemented by the government "don't appear to be considered unacceptable and indicate that Spain's society, after some difficulty, is starting to understand that this crisis demands reforms."
---