In Russia, with love? Ukraine president meets Putin as options dwindle.
Ukraine President Viktor Yanukovych, who met with Vladimir Putin in Moscow yesterday, may have no option but to warm to Russia despite being aggravated over high Russian gas prices.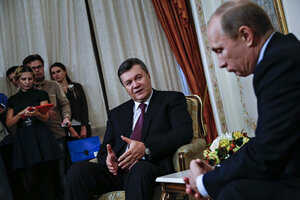 Sergey Ponomarev/AP
President Vladimir Putin met with his Ukrainian counterpart Viktor Yanukovych at the Russian leader's country home, Novo Ogaryovo, late Monday, and declared some progress toward Mr. Putin's goal of integrating Ukraine's economy with Russia's. But he gave no word addressing Mr. Yanukovych's hope of winning a reduced price for Russian natural-gas exports to his post-Soviet nation.
The meeting, though one in a routine series, illustrates that Ukraine may be gradually edging toward Russia as its other alternatives wear thin. Because Ukraine has few natural resources, its economy has suffered badly in recent years; in part because of the deepening crisis in the European Union, in part thanks to the crippling price of Russian natural gas for its extremely inefficient industry and housing stock. Yanukovych's insistence on prosecuting and jailing his main opponent, Yulia Tymoshenko, has deeply alienated the EU and further complicated any chances for economic integration with the West.
"There are some reasons to think that Ukraine and Russia's positions are drawing closer," says Mikhail Pogrebinsky, director of the independent Kiev Center of Political and Conflict Studies.
"If we don't develop our relations with Russia, Ukraine might be facing serious economic problems," he adds. "Trade turnover with Europe has been falling due to the recession, and Ukraine's government budget is in serious doubt. The only direction we can look for financial aid would be Russia. If the worst happens, and there is no money to pay pensions and other benefits, our authorities will be in trouble."
According to Russian media reports, the two leaders discussed further integration of their aviation, metallurgy, nuclear power, and space industries, all areas in which Russia has been keen to restore lost Soviet-era technological synergies. Putin wants Ukraine to sign on to a former Soviet customs union, which would effectively reunite the economies of Russia, Belarus, Kazakhstan, and Ukraine. Yanukovych, who continues to hope for the dwindling possibility of signing a free trade agreement with the EU, has balked.
---