Will the Tour de France be able to overcome Lance's legacy?
The Tour de France announced this year's route today. Despite the revelations about Lance Armstrong's now-vacated victories, organizers believe that the event will retain its appeal.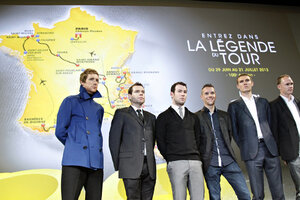 Benoit Tessier/Reuters
At a ceremony here Wednesday full of high-octane hoopla to unveil next year's route, the Tour de France turned its back on the man who once dominated the event longer than any other, and looked resolutely to the future.
Lance Armstrong's name was on nobody's lips. His image flashed onto the screen for only one split second, seemingly by accident. He has been erased not only from the record books, but from the Tour's public memory.
The Tour de France is desperate to shake off scandal, three days after the International Cycling Union (UCI), cycling's ruling body, stripped Mr. Armstrong of all his titles since August 1998, including his record seven Tour victories, and banned him for life from competitive cycling, for his use of performance enhancing drugs.
"The Tour will be stronger than doping and trickery," declared Jean-Etienne Amaury, president of the company that owns the Tour, to applause from the thousands of spectators gathered in Paris' largest theater, along with the French minister of sport, to learn the details of the 2013 Tour, the 100th edition of the event.
In its wake, the Tour will leave the record books blank for the period 1999 to 2005, Armstrong's winning streak. Only one of the riders who finished on the podium during those years is not tainted with proof or suspicion of drug use, according to the US Anti-Drug Agency, making it impossible to find worthy replacement winners without going far down the standings.
Despite this cloud, the sport's flagship event will bounce back, says Marc Madiot, a former Tour rider and now manager of the Francaises des Jeux team. "The Tour de France has a capacity to regenerate itself that we might not suspect," he says. "It is deeply anchored in the French populace."
The ordinary French people who turn out to watch the Tour each year – and there are 12 million spectators each July – see the race as a metaphor for life, Mr. Madiot suggests, which makes them more tolerant of doping. "Life itself is never simple," he says. "There are ups and downs and disappointments, and the Tour is like that too."
---