'Pragmatic' Rutte to lead new Dutch coalition government
Prime Minister Mark Rutte of the Netherlands announced today that his Liberal party and the Social Democrats have agreed on a new coalition, the third Mr. Rutte has headed.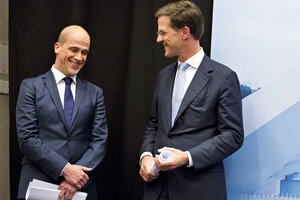 Michael Kooren/Reuters
The next time Dutch Prime Minister Mark Rutte has a summit with other European leaders in Brussels, he will be in a shrinking camp of political survivors.
Since Mr. Rutte first took office two years ago, there have been 17 elections in EU member states where voters could influence who becomes president or prime minister. Only four prime ministers and one president managed to keep their job, and Rutte is one of them.
Rutte's continued survival in The Netherland's top office reflects his ability to cooperate and compromise with his political peers. Today, he announced his new cabinet, forged by an agreement between his center-right Liberal party (VVD) and its new coalition partner, the Social Democrats. But the new government is the third political constellation – each with partners of significantly different leanings – that Rutte will lead within the past year.
His first, more right-wing government collapsed in April, when firebrand populist Geert Wilders withdrew his support for Rutte's minority government with the center-right Christian Democrats, effectively causing elections. But because EU rules demanded a new budget, three opposition parties joined the minority government for a temporary coalition.
Pro-European tone
Now, Rutte will lead a government that includes a party that during the election campaign took a much more positive tone towards European integration than the prime minister did.
---