Prospect of show trial stirs some Russians' memories of Stalinism
Some Russian activists are drawing parallels between a potential 'mega trial' for leftist leader Sergei Udaltsov and Stalin's show trials in the 1930s. But the comparison remains controversial.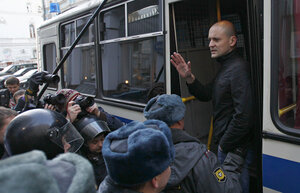 Mikhail Voskresensky/Reuters
Many Russian activists say they fear a big political show trial is being prepared by the Kremlin's powerful Investigative Committee, and some are calling it a creeping revival of Stalin-era methods of repression. The aim, they say, will be to intimidate all Russians who think about taking to the streets to protest against President Vladimir Putin.
"We are definitely fearful that authorities are preparing a mega-trial," perhaps based on the alleged riot that took place during a mostly peaceful street protest on May 6, the day before Mr. Putin's inauguration for a third term, says Yevgeny Ikhlov, information officer with For Human Rights, a grass-roots Moscow-based coalition.
"I know it sounds mad. Nobody will believe in this big conspiracy [that the Kremlin is alleging], and the authorities' credibility will suffer, but we see all the signs that it's being worked up," he says.
According to the script being prepared by the Kremlin, the activists allege, left-wing leader Sergei Udaltsov will be the principal defendant. He was accused in a "documentary" film, broadcast on the state-run NTV network, of plotting violent revolution at the behest of an official of the Georgian government and bankrolled by exiled anti-Putin tycoons in London.
Mr. Udaltsov was charged last Friday with conspiracy to conduct "mass disorders," which carries a potential 10-year prison sentence. Also charged were his associates, Konstantin Lebedev and Leonid Razvozzhayev, who alleges he was kidnapped in Ukraine last week by Russian secret services, illegally transported to a Russian prison, and forced to "confess" under torture.
---