Rostock, notorious for Germany's worst racist riots, struggles for redemption
In 1992, Rostock was tarnished by the worst racist rioting in Germany since the days of Hitler. But current Rostockers, including African immigrants, are trying to change that.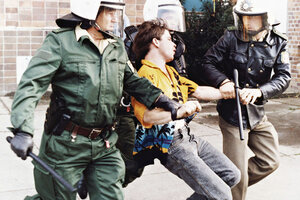 Thomas Haentzschel/AP/File
From her fifth-floor apartment one late-summer night, Kathleen Fichtner is trying to exorcise this city's demons.
"My third day visiting Ghana, I walked through a crowded square, and everyone was black," she tells a group of guests about her recent trip. "And I thought, 'They're all going to rob me!'"
Beside her, sipping drinks, five Ghanaian political refugees howl with laughter.
But back home in her native northeast Germany, she encountered even wilder notions: "Do Africans use forks and knives?" a grandparent asked. "Do they have roads?"
Her guests roll around in their chairs, slapping knees, and each other's backs.
"We don't have houses!" someone jokes.
"We sleep in trees," cracks Kofi Owusu.
Ever since 1992, when Rostock became site of Germany's most racist riots since the days of Hitler, this Baltic Sea port has faced a long road to redemption. That August, an angry mob, fed up with scores of Eastern European refugees pouring in, ran riot for three days – hurling Molotov cocktails at a heavily immigrant apartment complex and then storming it, and at one point forcing the police into retreat. In the process, the city became a byword for the sort of neo-Nazism that's plagued Germany for decades.
Over the past 20 years, though, Rostockers have labored to reinvent their city. They have restored their picturesque Old Town, which was bombed in World War II and mothballed under four decades of communism. They've expanded their deep-water port, which will dock a record of nearly 200 cruise ships this year. And they've modernized their 15,000-student university, founded in 1419 and now attracting talent from as far away as Korea.
---