As Europe scrimps, budget airline Ryanair soars
Europeans may be tightening their belts, but they're still flying Ryanair, whose profits were up in the first half of 2012. And the airline is eying expansion in Eastern Europe, Africa, and even the US.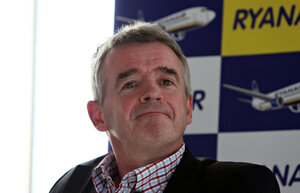 Steve Parsons/PA Wire/AP
Spartan, garishly colored cabin interiors, seats stripped of pockets, a seemingly constant bombardment of mid-air retail offerings, and a cheesy automated trumpet fanfare that announces "yet another on-time arrival."
It could only be Ryanair, the budget airline European travelers love to grumble about while readily snapping up its fares. The pattern has transformed the nature of travel on the continent and forced more upmarket rivals, including British Airways and Lufthansa, to mimic its "no frills" model.
While companies from a range of sectors across the continent continue to struggle against the headwinds of deep austerity, better than expected results released this week by the Dublin-based carrier for the first half of this year underlined the apparent resilience of one of Europe's most extraordinary business success stories. Despite operating in cash-strapped times where many Europeans are cutting back on the pre-austerity habit of taking multiple weekend city vacations, it posted a 10 percent rise in net profit and 15 percent rise in revenues to €3.1 billion (almost $4 billion).
The announcement Monday also came with the confirmation that Ryanair is adding nine new routes from English airports in a move slated to create 1,000 new jobs next year.
No transatlantic expansion... yet
---