Obama win keeps US-British relations familiar, comfortable
British Prime Minister David Cameron, who says he has a rapport with the president despite their differing political affiliations, congratulated Obama on his successful reelection bid today.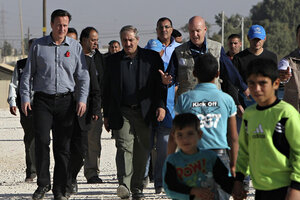 Ali Jarekji/Reuters
Although in theory they are from opposing sides of a broader right-left political divide, No. 10 Downing Street never seems to tire of insisting that Britain's young Conservative prime minister, David Cameron, has "clicked" on a personal level with Barack Obama.
It's a narrative that's not without its skeptics, but in Mr. Cameron's first reaction Wednesday to Obama's reelection, the prime minister's praise for "Barack" as "a very successful US president" seemed to come easily to him.
"I have really enjoyed working with him over the last few years and I look forward to working with him again over the next four years," Cameron told the BBC during a trip to the Middle East.
Robin Niblett, director of the foreign affairs think tank Chatham House, says he believes that there would have been been genuine "relief" at Downing Street following Tuesday night's result.
"My impression is that the president and the prime minister do genuinely get along. They are both pragmatists, both figures who are not particularly emotional about their policies. It's a different relationship to others in the past and therefore this is safe result at a time when the UK has a lot of challenges," he says. "Having to [fit] in relations with a new US administration at this moment is not what Cameron would need."
---