Germans happy with Obama win, but still disagree on austerity
If Germans could have voted, Obama's reelection would have been a foregone conclusion due to the president's 85 percent approval rating.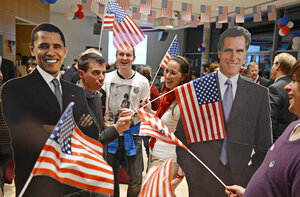 Jens Meyer/AP
There isn't a single front page in Germany today that does not carry a picture of a triumphant Barack Obama and his family, and most newspapers do not hide their satisfaction about Obama's reelection.
"America's better half" is the headline of the left-leaning Tageszeitung, "Obama raises new hope" says Berliner Zeitung.
But there are hints too that Germany has certain expectations. "Do it again, but better" reads the headline of Germany's influential weekly Die Zeit.
If Germans could have voted for a US president, the elections would have been a foregone conclusion. A survey just before the elections by pollsters YouGov found that 85 percent would vote for Obama with only 4 percent in favor of Mitt Romney. Support for Obama is found in all age groups and across Germany's social and political spectrum. The number of those who think that the president has done a good job so far is considerably lower though – around 60 percent.
The enthusiasm for Obama might seem surprising, given that the president did not meet a number of German expectations, says Johannes Thimm of the German Institute for International and Security Affairs in Berlin.
---